Forum UnternehmerTUM is an invite-only event where we spark action for a liveable future. In 2023, hand-picked changemakers and international visionaries from the start-up scene, business and science will be meeting up for the 15th time in a flowing open house setting. They will share impulses for economic and societal shifts. And they will learn more about the most exciting tech innovations.
Transforming Europe for sustainable growth is this year´s motto. People, Planet, Prosperity are the key words.
Again, no other location would be better for this than our innovation center in the heart of Munich, the Munich Urban Colab.
Among others, Anne Mettler, Vice President, Europe, at Breakthrough Energy, Bill Gates' network to achieve a path to net zero emissions by 2050, will give herself the honor as one of this year's speakers. Steve Blank will also be one of the panellists. The Adjunct Professor at Stanford University is co-creator of the Lean Start-up movement and has been part of, or co-founded eight Silicon Valley start-ups. And Michael Jackson, transatlantic entrepreneur and Venture Partner at Multiple Capital with more than 20 years in and around start-ups and venture capital will be one of the great speakers on the 13th of June in Munich.

They and many others will make the Forum 2023 a special day - together with you!
"Time's up. We need a new narrative, new business models, new bold change makers."
"Sustainable transformation is one of the greatest challenges of our time, we need courage to change!"
"How does strategic resilience impact corporates, startups & investors?"
Ready for the Forum UnternehmerTUM 2023?
Take a look at our inspiring agenda now!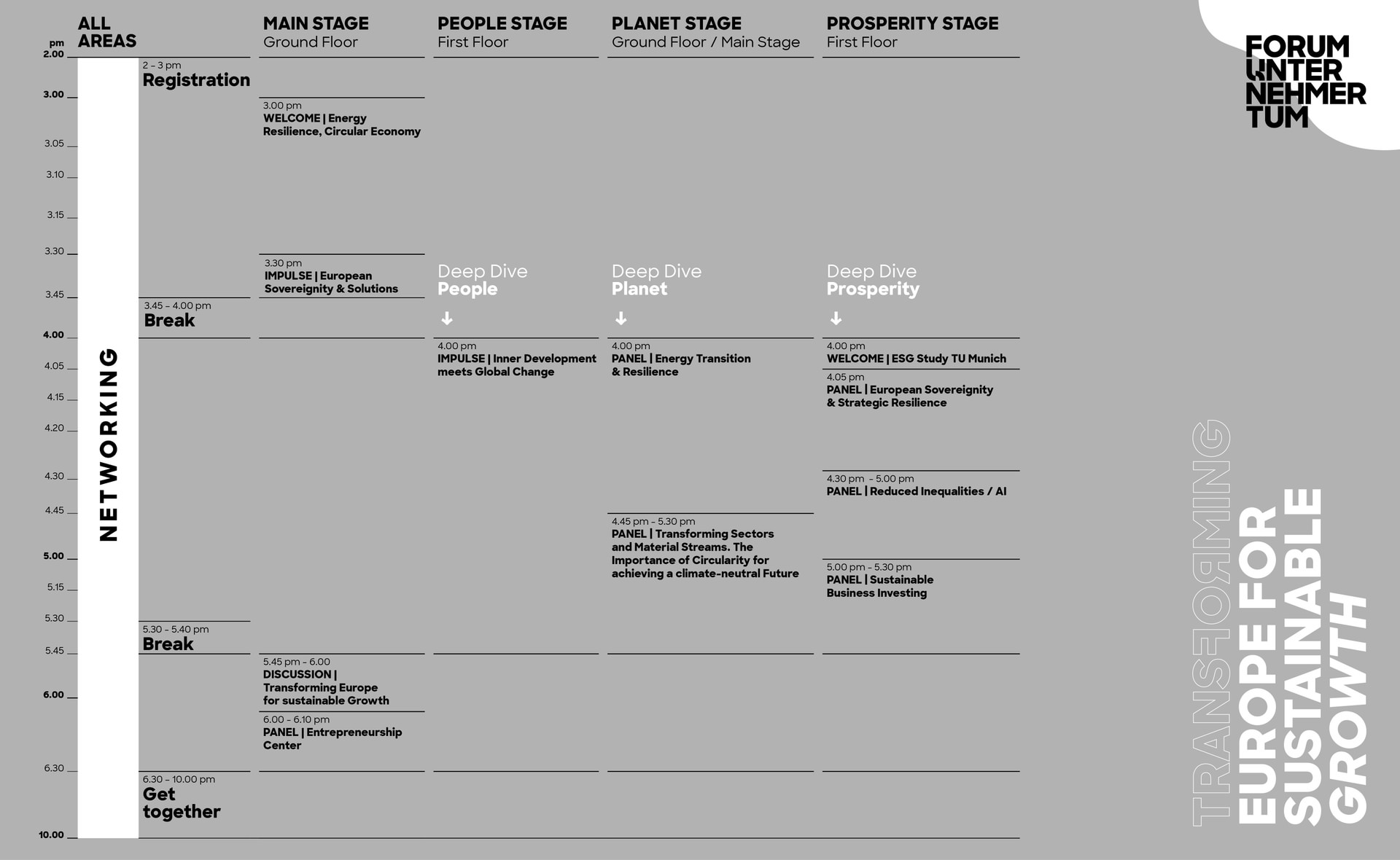 Tell your business community about the Forum 2023
P.S: Don't forget the hashtag #ForumUnternehmerTUM
Download our media templates
Among others, as speaker on stage 2023:
Jasmin-Chiara Bauer
Co-Founder oamo GmbH & Academy Alumna

Steve Blank
Adjunct Professor Stanford University

Flore de Durfort
CEO & Co-Founder Point Twelve Energy

Annette Diefenthaler
Professor of Design and Transdisciplinarity; Executive Director of the Munich Design Institute

Felix Fischer
COO & Co-Founder Reverion

Alexander Glätzle
Managing Director & Founder Planqc

Thorsten Hahn
CEO Holcim Germany

Nick Halla
Co-Founder Impossible Foods

Emanuel Heisenberg
CEO & Co-Founder ecoworks

Saskia Dr. Juretzek
Head of Sustainability Tengelmann Twenty-One

Salla Laassonen
Academic Director DTU Executive Education

Antonella Mei-Pochler
Strategist, Supervisory Board Member, Senior Advisor, Head of KofiAnnanAward for Innovation in Africa

Ann Mettler
Vice President Europe at Breakthrough Energy

Inas Nureldin
Co-CEO & Co-Founder Tomorrow

Lidia Rauramo
Lecturer at Aalto ventures Program Aalto University

Jennifer Rupp
Professor Department of Chemistry Technische Universität Munich, CTO of TUMint.Energy Research

Philipp Schröder
CEO & Co-Founder 1KOMMA5°

Francesco Sciortino
CEO & Co-Founder Proxima Fusion

Anne Tryba
Professor of Entrepreneurial Education